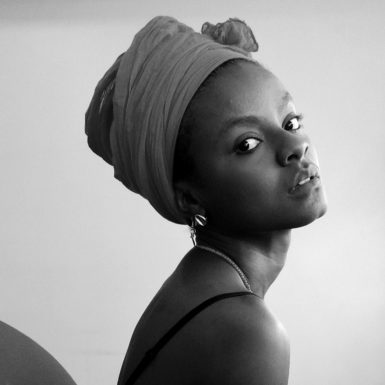 maison Folie wazemmes
55 min
Pass Latitudes
The Divine Cypher
The Divine Cypher is a journey which travels through bodies, goes back in time and explores imaginary places. Placing herself at the intersection of image and movement, Ana Pi proposes a sensitive political and poetic research process based on sacred movements from the country of Haiti.
For this new work, the choreographer, visual artist and researcher Ana Pi invites us into a grand conversation dreamed and danced with the experimental filmmaker Maya Deren. During the 40s, Deren studied Haitian culture, its dances and voodoo practices and heritage. Nearly a century later, Ana Pi seeks resonance with the images and archives left by the filmmaker. In constant dialogue with her contemporaries, transdisciplinary artists from Haiti, she wonders, what is left today of these sacred dances? What movements have been retauned as part of the current dances? How can we expand the cypher, this series of fantastical gestures?
In a journey driven by a ferocious curiosity,The Divine Cypher invites us to contemplate, to reflect, to exchange, weaving the imaginary movements of the past into the dreams of the future.
Accessibility information :
Spoken word in English, no surtitles, seated audience
Credits
Choreographic and scenographic conception, videos, research and interpretation: Ana Pi
Light creation: Bia Kaysel
Light reinterpretation: Jean-Marc Ségalen
Stage management, alternating: Bia Kaysel and Jean-Marc Ségalen
Music and sonorities: Jideh HIGH ELEMENTS, Emy de Pradines and Auguste de Pradines – Ezili Nenenn Ô, Julien Creuzet and Maya Deren
Real memories, dreamed dialogues and/or multiple collaborations: Katherine Dunham, Maya Deren, Emy de Pradines, Lumane Casimir, Martha Jean-Claude, Toto Bissainthe, Marie-Ange Aurilin, Ginite Popote, Tara El, Wendy Désert, Gerda Boisguené, Murielle Jassinthe, TRVANIA, Jenny Mezile
Semiotic outlook: Profe. Dre. Cida Moura
Philosophical outlook: Profe. Dre. Maria Fernanda Novo
Plastic outlook: Julien Creuzet
Filter design: Emilien Colombier
Costumes: Carla de Lá, Miliane et Isabella Rodsil | @remexefavelinha
Contributions to scenographic realisation: Studio Julien Creuzet with Garance Cabrit and Louis Somveille
Production / diffusion: Sarah Becher
Communication / press: Louise Marion
Production: NA MATA LAB
Executive production: Latitudes Prod. – Lille
Co-productions: The Patricia Phelps de Cisneros Research Institute for the Study of Art from Latin America & Museum of Modern Art, New York, USA ; Terra Batida, Alkantara, Portugal ; Be My Guest — Réseau international pour les pratiques émergentes ; La Briqueterie CDCN du Val-de-Marne ; CNDC, Angers ; Kunstencentrum Vooruit, Gand – within the framework of the cooperation programme Hauts-de-France / Flandres.
Film co-production: with the participation of the Fondation Cartier pour l'art contemporain's Soirées Nomades
The project is supported by the Spedidam, the Region Ile-de-France and the DRAC Ile-de-France.
Thanks to the ancestor's persistence and to the young people who will join this timeless cypher. To Maya Deren and the keenness of all the traces she offers us, to the wisdom and power of Madame Katherine Dunham her predecessor, to Lia Rodrigues who has been opening the way for a long time. This dance is dedicated to the revolutionary beauty of the Haitian people, from the past, the future and the present.
The Divine Cypher premiered on November 18th and 19th 2021 at the Briqueterie CDCN Val-de-Marne within the framework Festival d'Automne in Paris / Carte blanche à Lia Rodrigues