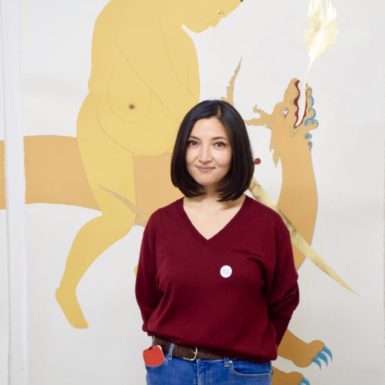 Condition Publique/streets of Roubaix
Free
Les Héroïnes d'Aujourd'hui
Kubra Khademi shakes up the way we look at public spaces, with an installation-journey through places that she renames after Afghan feminist resistants.
Who are urban spaces named after? In France, barely 5% of streets are named after women. To pay homage to today's heroines, Kubra Khademi proposes an installation around the Condition Publique, through places that she renames after Afghan feminist resistant women. In Paris, in January 2022, she covered the plaques of the Allée du Commandant Massoud with the names of Hoda Khamoosh, Rokhshana Rezaie, Fowzia Wahdat and Frozan Safi, four leaders of the resistance against the Taliban. For Latitudes Contemporaines, she continues in Roubaix this work of recognition of the struggle of these women, who fight at the risk of their lives to obtain fundamental human rights.
Accessibility information :
Reading signs, moving the public
Within the framework of Urbain.es at la Condition Publique.
Upon presentation of a Latitudes Contemporaines ticket, benefit from a reduced rate for the visit of the exhibitions Urbain-es and Des futurs désirables at the Condition Publique.
Credits
Concept and creation : Kubra Khadem
In honour of : Aliya Azizi, Wahida Amiri, Tamana Zaryab, Zahra Mohammadi, Mursal Ayar, Madina Darwazi, Nayera Kohistani, Tamana Rezaie, Fariza Akbari, Hoda Khamoosh, Rokhshana Rezaie