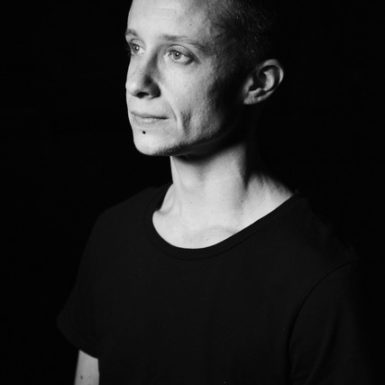 ECCE (H)OMO
To pass from one body to another, from one language to another, from one hi-story to another. ECCE (H)OMO is a desire to reflect in action on the notion of inheritance in dance through an interpretation of the dance cycle Afectos Humanos by German choreographer Dore Hoyer (1911-1967). This cycle created between 1959 and 1962 is composed of five short solos. Five dances for five affects: Ehre/Eitelkeit (Pride/Vanity), Begierde (Desire), Hass (Hate), Angst (Fear), Liebe (Love).
I encountered these dances for the first time six years ago, in São Paulo. In a 1967 video, we see Dore Hoyer dance the Afectos Humanos for a television show. There starts for me an investigation on this artist. I discover that she committed suicide shortly after this recording, that she danced for Mary Wigman, that she left behind her a multiple work, composed mainly of solos, and that she still remains today a marginal figure of German dance.
A few years later, I began to learn on my own the five solos that make up the cycle Afectos Humanos. Later, in order to dance them in front of an audience, I worked with the choreographer Martin Nachbar, authorized to transmit them to me. A long way for these gestures to become mine, to find my own dance within hers. I understood that if I could not do everything I wanted with these dances, nothing would stop me from being who I wished. To embody the dances of Dore Hoyer is not for me a matter of a restitution, but rather that of an investigation which does not seek for closure.
Credits
By and with: Pol Pi
Outside eye, assistant and scenographer: Pauline Brun Dramaturgy and costume: Pauline Le Boulba
Light design: Florian Leduc
From an original choreography by Dore Hoyer
Music: Dimitri Wiatowitsch
© Deutsches Tanzarchiv Köln
Dance transmission: Martin Nachbar Administration & production: Latitudes Prod. – Lille
Production: NO DRAMA.
Executive Producer: Latitudes Prod. – Lille
Coproductions: ICI – CCN de Montpellier/Languedoc-Roussillon Midi-Pyrénées with Life Long Burning, Centre national de la danse, PACT Zollverein, Honolulu with the CCN de Nantes, Théâtre de Poche de Hédé-Bazouges with Extension Sauvage.
With the support of the Transfabrik Funding – "Fonds franco-allemand pour le spectacle vivant".
This project also benefited of "Aide au projet" from DRAC Île-de-France – Ministry of Culture and Communication (France), and of a residency at the Centre Français of Berlin.