INFRA · Inclusive Network For Refugee Artists
INFRA · Inclusive Network For Refugee Artists is a network which aims to favour the social and professional integration of artists in exile in Europe. Supported by the European Commission in the frame of Creative Europe and led by six european cultural structures, INFRA aims to support these artists in the creation of professional links with the European cultural sector.
The social, economic and democratic crises European societies are currently experiencing threaten the human freedoms of creation and expression. Believing that social cohesion can only exist when culture, art and democracy work together, INFRA has chosen to support the work of refugee artists in exile in Europe. Their path to social and professional integration is inherent to their individual processes, as well as the fight for the preservation and respect of their rights. Thus, the main aim of INFRA is to facilitate their understanding of their new environment by offering them individual support and by validating their competences and talents.
The presence of these artists in Europe is a cultural, artistic, social and economic opportunity. By allowing them to create freely, INFRA aims to encourage the appearance of a diverse and inclusive European consciousness.

Find out more about INFRA on our website ! https://www.infra-europe.art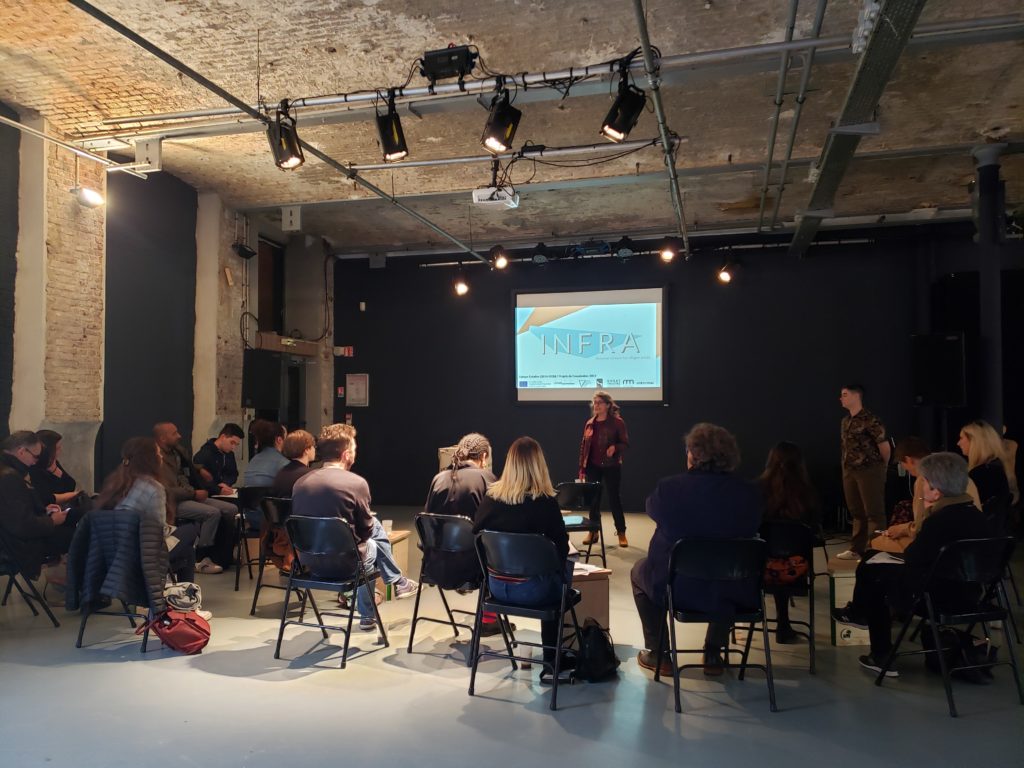 The project
To support these artists in growing their projects, INFRA has implemented a series of actions. Over the 2 year duration of the program (October 2019 > December 2021), the supported artists will take part in the project, which will include :
 Exchanges with emerging and experienced artists already working in European Territories;
 Laboratories conceived  as an artistic exchange about the specificities
 Week-long artistic residencies
 Valorisation of the artists' works through the organisation of public presentation during international events
In order to promote these intercultural exchanges, encounters with audiences will also be organised.
Laboratories
During the two years of existence of INFRA, these are the laboratories that have been organized :
– 26-29 February 2020 – Brussels (Belgium) with La Cambre
– 26-30 October 2020 – Athens (Greece) with MIRFestival – Online
– 8-11 April 2021 – Athens (Greece) with MIRfestival – Online
-15-20 June 2021 – Lille (France) with Latitudes Contemporaines
– 26-30 September 2021 – Rome (Italy) with Teatro Di Roma
-18-28 October 2021 – Chisinau (Moldova) with KSA:K Center for Contemporary Arts
– 23-26 November 2021- Bruxelles and Gent (Belgium) with La Cambre and Vooruit
The partners
INFRA is an innovative gathering, on a European level, of the professional practices of five cultural organizations coming together in the interests of accompanied artists and performing arts professionals. Each cultural structure is experienced in the individual support of artists. The network is thus based on the complementarity of its committed partners:
In time, INFRA aims to build a permanent network.
The methodological guide
In time, INFRA will be considered a reference in the European field of professional accompaniment of artists in exile. Over the two years of the project, INFRA partners will exchange information about their respective accompaniment practices.
At the end of the project in October 2021, all of these exchanges will be compiled in a form of openly acessible platform, which aims to build a strong network that will last more than the actual INFRA calendar, reinforcing cultural links and bridges among European Union.
This platform, in  which other european cultural actors will be welcomed to take part in, aims to enhance solidarity and sharing between artists, mediators, audiences, and the professional sector.
Facebook · Twitter · Instagram · Newsletter

INFRA is supported by the European Commission within the framework of its international cooperation program Creative Europe.