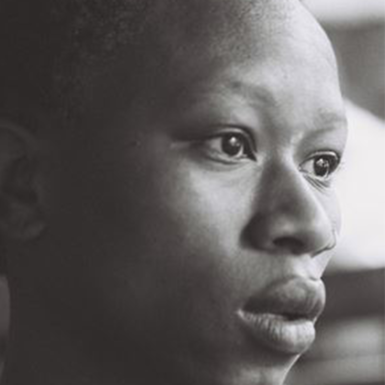 ICIRORI
In Kirundi, ICIRORI means "to look into one's inner mirror, to look one's history in the face in order to move forward". Consolate seizes this meaning to create a documentary show that retraces her journey and opens a space for sharing a story that is as intimate as it is collective.
On October 21, 1993, during the war in Burundi, Consolate, barely four and a half years old, wanders into the Kwitaba forest after her parents are murdered. For several days, she lived there at night with her sister before being taken to Belgium to be adopted. Today, she invites us to enter into her sensory memory, to experience the sounds, smells and lights that take her back to this forest. Through the power of art and the senses, the director affirms that her story is collective and concerns everyone.
For several years, Consolate has been conducting documentary and artistic research on her personal history, linked to the issues of identity wrenching, human trafficking and transnational adoption, surrounded by artists who follow her, accompany her and document the process of reappropriation of her history.
ICIRORI is an ongoing work that continues to grow and evolve as Consolate's quest for identity continues. The first part is a performative and immersive installation in "I", which plunges the spectators into the heart of Consolate's memory and invites them to meditate, to think about their deaths together. The second part is a space conceived as an invitation to discover the process that Consolate goes through, and gives access to a part of the documentary research work linked to the project. This documentary space in "WE" is intended to welcome exchanges, sharing of reflections and experiences, valuing the word of the people concerned.
ICIRORI stems from the need to tell one's story in order to meet one's roots, and from the urgency to make known the stories of the stolen children in Burundi.
Credits
Conception, writing, drawings and interpretation : Consolate.
Choreographic research: Sophie Guisset.
Dramaturgy: Lara Ceulemans.
Sound: Gaspard Dadelsen.
Documentary-video: Gaspard Audouin.
Research: Annabelle Guidice.
Lights: Camille Rolovic.
Scenography: Micha Morasse
Executive production: Latitudes Prod. (Lille, FR).
Coproduction: Théatre Les Tanneurs (Bruxelles, BE) / Théâtre de Liège (Liège, BE) / Théâtre la Bellone (Bruxelles, BE).
Diffusion partners: Théâtre l'Ancre (Charleroi, BE)/ La Bellone (Bruxelles, BE) / Festival de Liège (Liège, BE) / Festival Latitudes Contemporains (Lille, FR) /Buja sans Tabou (Bujumbura, Burundi).
Research partners: Université de Liège (BE) / Université de Saint Louis-Bruxelles (BE) Fédaration Wallonie Bruxelles (BE) – en cours / Journal le Soir (BE)