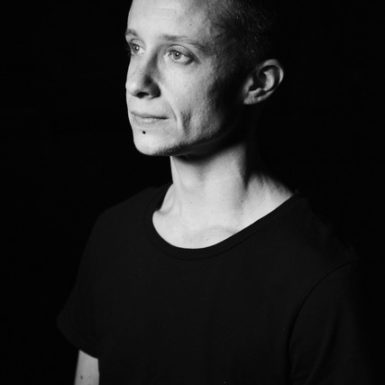 daté·e·s
After ECCE (H)OMO and ALEXANDRE, two solos which aimed at interpreting an archive  through the body, Pol Pi has put this question back on the table using the singular archives that each individual possesses. By inviting two dancers situated at different points in time, cultures and genders, he creates a crossroads between three generations and three stories: Pol Pi, the dancer and choreographer born in 1982, trained in music, physical theatre and butoh, Solen Athanassopoulos, born in 2001, a freestyle hip-hop dancer and Jean-Christophe Paré, born in 1957, a former dancer for the Opéra de Paris and a performer for a large number of choreographers. In daté.e.s, bodies become seismographs of intimate marks, like documents in which can be read the intensity, the desire and the commitment of a position in the present. From the biographical to the collective and from the collective to the intimate, the ways they move and exchange set off a questioning that leads to a feedback from each body – its way of placing itself in terms of zones of belonging. Based on the figure of the body as an archive – made up of gestures, voices, memories – Pol Pi creates a constellation of othernesses that recomposes a political landscape and a subjective plurality.
Gilles Amalvi for the CN D
Credits
Conception and choreography POL PI
Creation and interpretation SOLEN ATHANASSOPOULOS,  JEAN-CHRISTOPHE PARÉ, POL PI
Scenography and costumes RACHEL GARCIA
Dramaturgy JOHANNA HILARI
Sound creation JULIA ROBERT
Light creation RIMA BEN BRAHIM
External outlook VIOLETA SALVATIERRA
Choreography assistant LAURA DAT-SÉNAC
Scenography and costume interns NOE QUILINCHINI, VERONICA RENDON RUIZ
Costume assistant ELSA DEPARDIEU
Stage and sound management DIANE BLONDEAU
General director RACHEL GARCIA, DIANE BLONDEAU
Light director RIMA BEN BRAHIM / CHRISTINE MAME 

Production  NO DRAMA
Executive production LATITUDES PROD. LILLE /
direction MARIA-CARMELA MINI
Thanks to Laurent Sebillotte and the Patrimoine teamof the CN D, Denise Luccioni, Barbara and Henry Pillsbury, Dudude Hermann, Renata Arruda,  Sam Bourcier, les Laboratoires d'Aubervilliers.
Coproductions
LES RENCONTRES CHORÉGRAPHIQUES INTERNATIONALES DE SEINE-SAINT-DENIS ; CHARLEROI DANSE ; CENTRE CHORÉGRAPHIQUE DE WALLONIE – BRUXELLES ; CCN2 – CENTRE CHORÉGRAPHIQUE NATIONAL DE GRENOBLE ; COLLECTIF 12 MANTES-LA-JOLIE ; KING'S FOUNTAIN ; PAVILLON / VILLE DE ROMAINVILLE
Residencies
CN D CENTRE NATIONAL DE LA DANSE ; PAVILLON / VILLE DE ROMAINVILLE ; DAMPFZENTRALE BERNE ; THÉÂTRE GARONNE ; SCÈNE EUROPÉENNE DE TOULOUSE
NO DRAMA is supported by theDépartement de Seine-Saint-Denis, the DRAC Île-de-France and the Région Île-de-France. The project is supported by the Caisse des Dépôts et Consignations, the SPEDIDAM and the ADAMI.